The 5th World Water Forum kick-off meeting in March 2007 in Istanbul marked the beginning of a 2-year countdown towards the 2009 Forum, during which time various preparatory processes and events were organised. This initial meeting gathered approximately 300 participants and offered them the valuable opportunity to provide input on the thematic priorities for the next Forum.
Several preparatory process meetings took place in order to examine the progress with preparatory work programme, and determine the following steps. Overview reports on these meetings can be found following the links on the right.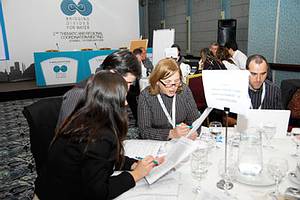 In order to be as efficient as possible in the organisation of the 5th Forum, the WWC and Turkey agreed that the 5th Forum International Steering Committee (ISC) would be supported by three Committees, namely the Programme Committee, the Political Process Committee and the Communications Committee. With balanced representation in each, these groups worked together, like interlocking puzzle pieces, to make recommendations to the ISC on particular aspects of the Forum, in order to build a strong foundation for it.
This improved cooperation and sharing of responsibilities evolved over the preparatory process into a fruitful and unique event, with harmonised messages that further supported the advancement of the cause of water and eventually the 5th World Water Forum in Istanbul.