The second edition of the Kyoto World Water Grand Prize was awarded during the 5th World Water Forum's closing ceremony to the Watershed Organization Trust (WOTR) from Maharashtra State, India, for its activity focused on "Changing Lives, Saving the Future". Click here for a video of the prize winner's activities.

The award was presented by Yukiko Oshima, President of Soroptomist International of Kyoto and Hitoshi Ohshima, Executive Officer on Global Environment Policy.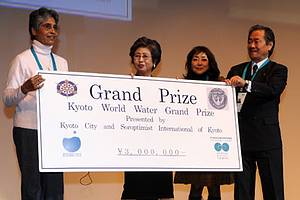 photo by Leila Mead

Subtitled "Contributing to the Millennium Development Goals through grassroots initiatives" the Prize, created in 2003 during the 3rd World Water Forum, aims to honour a distinguished individual or organization whose grassroots-level activities work towards addressing critical water needs of communities and regions. It also aims to provide the opportunity for grassroots organizations to present their work on the global scale, as a contribution to the achievement of the Millennium Development Goals and other global targets.


This prize of JP ¥3,000,000 (or approximately US$28,000) is presented every three years during the World Water Forum. The prize money is used by the winner or winning organization to continue the award-winning exercise or similar ones.

Just as important as the prize money was the opportunity to provide the platform for 30 presentations of excellent grassroots initiatives during the Forum.

A number of candidates are also funded to attend the Forum and present their initiatives through the Prize. The first edition, awarded at the 4th World Water Forum in Mexico in March 2006, was awarded to Gram Vikas, an NGO from India, who was selected from 30 sponsored candidates. The second edition of the Prize is to be awarded at the 5th World Water Forum in Istanbul, Turkey in March 2009.
Application Process
The candidature period through the 5th World Water Forum's Virtual Meeting Space was open until November 30, 2008, in which time 67 applications were reviewed to select the 30 organizations that were invited to the Forum to present their activities. The Prize Committee then selected the 10 finalists that presented their activities to a 12-person international panel of judges on March 21st, to directly compete for the Prize. The winner was the candidate that scored highest in an objective rating of the seven stated criteria in the Prizes Guidelines.


Click here to view the presentations of the 30 pre-selected candidates and here to read their full application details.

Past winners are as follows:
5th World Water Forum, Istanbul 2009: Watershed Organization Trust, Maharashtra India.

4th World Water Forum, Mexico City 2006: Gram Vikas, Orissa, India.