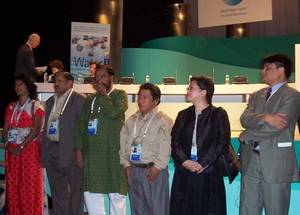 Some of the Kyoto Prize finalists during the Closing Ceremony.
"CBO turns into development in the southwest coastal region of Bangladesh"
Gana Unnayan Sangstha
In the south-west coastal region of Bangladesh people are dying for drinking water. Due to unplanned shrimp farming and climate change, salinity has increased and the total drinking water source has become damaged, forcing people to cover distances of five or six kilometres to reach a new source. Coastal community-based organisations have created an Eco-club movement, a network of 30 clubs, to raise awareness amongst the community of the water crisis and the alternatives in water technology that are available. These clubs have organised 580 meetings in 180 villages (reaching about 26,000 people), distributed leaflets and written to the Prime Minister to advance solutions to drinking water problems.
Contact: Mohon Mondal
"Household water treatment technology transfer in Haiti--a case study of a replicable program"
Centre for Affordable Water and Sanitation Technology
Over 2 million Haitian people lack access to clean water and over 5 million to adequate sanitation. CAWST developed a unique Technology Transfer Model in Haiti that builds the capacity of organizations at a grassroots level to meet their own needs for water and sanitation. This model has been successfully replicated in other parts of the world, enabling CAWST to make a significant contribution towards the Millennium Development Goals (MDGs). Twenty Haitian organizations have acquired practical, hands-on knowledge of HWT and sanitation implementation. Multiple household water and sanitation programs were implemented and resulted in over 42,000 people with access to safe drinking water both in rural and urban settings. Clean Water for Haiti, following CAWST's training, has developed a local micro-business for filter production, trained 75 filter technicians across the country and empowered them with skills to start-up their own business.
Contact: Camille Dow Baker Website
"Community involvement in provision of water and sanitation"
Anjuman Samaji Behbood, Faisalabad
With a population of 2.5 million, Faisalabad is the second biggest city of Punjab province in Pakistan. The numerous slums and squatter settlements around the city share common problems arising from lack of access to clean drinking water and sanitation services. In one squatter settlement, Hasanpura, which was a typical low-income housing area of 1,000 households, there was no municipal provision for water supply and sanitation and the residents of Hasanpura paid heavily for the purchase of water and solid waste collection. In 1995, the cash spending equaled US $100 daily for the purchase of water and solid waste collection when average income per household was 2 dollars. Estimates show that residents of Hasanpura were paying Rs. 9.292 million = $ 0.160 million annually for medicines, house repairs, and procurement of basic services arising out of this problem. ASB mobilized and organized communities to construct self-managed, self-financed and self-maintained water and sanitation infrastructures linked with primary municipal works. After 3 years, all residents of Hasanpura have piped water and sewerage lines and water-related illnesses have declined by 60%. Owing to the successful accomplishment of this venture, it has been expanded to eighty-five other communities and neighboring cities of Faisalabad.
Contact: Malik Nazir Ahmad Wattoo Read more.
"Towards widespread rainwater harvesting in Ethiopia"
Rainwater Harvesting Implementation Network
In rural areas in Ethiopia, as in most African countries, most people have poor access to safe water. They depend on distant, unreliable and potentially contaminated water sources. The resulting problems are mostly related to health and the time involved in fetching. Rainwater harvesting (RWH) offers a high-potential solution to complement water supply in rural areas in developing countries. In Ethiopia, RWH has been practiced since long ago, but due to the use of modern technologies, this traditional practice was almost forgotten. The recent revival of RWH is triggered by problems such as overexploitation and dropping groundwater levels, caused by modern water supply technologies. In 2005, RAIN started its RWH program in Ethiopia by selecting the Ethiopian NGO ERHA as its Rainwater Harvesting Capacity Centre (RHCC). Ten RWH systems were constructed by four local Ethiopian implementing organizations, these tanks (total harvesting capacity about 430,000 liters) are now daily benefiting about 3,000 people and 20 patients.
Contact: Matthijs Schuring Website
"The Kazusabori Technology Transfer and Sustainable Community Water Development"
International Water Project
Njukini (Maasai land) in Kenya is a semi-arid area and is faced with a severe shortage of safe, reliable water. This is because of seasonal rivers/streams, low precipitation and frequent drought. The area was affected by cholera and water sources are in common contact with wild animals. The solution provided was training the community in Kazusabori technology to supply safe water and to improve their living and health conditions for their self-reliance. Ten people were trained and 6 wells were constructed at primary schools and in communities. After 8 months of training, ten members of the community can drill wells by themselves. Safe reliable water is now available and the prevalence of water-borne diseases has been drastically decreased.
Contact: Hisayo Ohno Website
"Traditional forest and natural resource stewardship of the Maya Quiche in Totonicapan, Guatemala"
Ulew Che Ja
Totonicapán is located in the west of Guatemala, within the Southern Sierra Madre mountain range. San Miguel Totonicapán's forest is one of the last natural remnant old-growth forests still existing in the region and supplies fresh water to 48 communities. Despite the Quiche's intent to sustainable use their forest and its resources, persistent poverty is resulting in the slow advance of the agricultural frontier and degradation of forest resources. In addition to unsustainable agricultural practices, the forest's integrity is compromised by illegal logging, hunting, firewood extraction, and indiscriminate livestock grazing (sheep). EcoLogic and Ulew Che Ja are working together to implement a reforestation project focusing on protecting water sources. In addition, this project uses the sale of additional tree seedlings as a means to create economic self-sufficiency to maintain a tree nursery on a long-term basis. So far, 104,000 seedlings have been cultivated in the community nursery and a first reforestation phase was completed in 19 degraded areas using over 23,000 seedlings. These actions are accompanied by intensive training for community volunteers. Ulew Che 'Ja is truly a remarkable model for the indigenous stewardship of natural resources. At least 100 leaders convene every 2 weeks to address forest and water governance. Community participation and commitment have contributed to its success.
Contact: Pedro Rosales Read more.
"Dissemination of the Kanchan Arsenic Filter in Rural Nepal through a Local Entrepreneurs Model"
Massachusetts Institute of Technology
It is estimated that 90% of the rural Terai population receives their drinking water supply from tube wells, but 20+% and 40+% are arsenic and microbially contaminated. In some places, the arsenic concentration is more than 100 times higher than the WHO guideline value of 10 ppb and causes skin diseases and cancers. Currently, many villagers are still unaware of the health hazards of drinking contaminated water or have no other option. To address this problem, Massachusetts Institute of Technology Civil and Environmental Engineering Department (MIT-CEE), in collaboration with the Environment and Public Health Organization (ENPHO) of Nepal and the Rural Water Supply and Sanitation Support Program (RWSSSP) of Nepal, developed a low-cost (US$20), innovative household water filter, the Kanchan Arsenic Filter (KAF), constructed using locally available labor and materials, as well as an innovative implementation program emphasizing entrepreneurship and social marketing. The design and implementation is an outgrowth of 7 years of structured research, taking into account the socio-economic conditions in rural Terai. Due to the success of the workshops, partnerships and training activities, currently over 2500 filters are in operation through the Terai region. This results in over 20,000 people gaining access to safe drinking water. The number of beneficiaries is increasing daily as more filters are sold everyday by the entrepreneurs. It is hoped that an additional 30,000 to 50,000 people in Nepal will be reached within the next 2-3 years.
Contact: Susan Murcott Read more.
"Kiambiu Water and Environmental Sanitation Project"
Maji Na Ufanisi (Water and Development)
Kiambiu slum is one of the many slums that are found within the perimeters of Nairobi City. KIWESA is a joint Community and Maji Na Ufanisi project that started in 1998. The project aims at assisting the community to improve its dire water supply and sanitation situation and to secure the village for themselves by investing in permanent infrastructure. Communities were first mobilized and organized through clean ups and clearing of garbage. Then, the community designed, raised funds for and implemented a plan for 24 cubicle sewered public toilets with water tank and kiosk, which they planned to run as a business. The KIWESA project has created many jobs for the slum community in Kiambiu and created revenues, which are being kept in a community-run bank account and are earmarked for maintenance of the water and sanitation facilities and the purchase of other plots within the slum where future toilet blocks can be built. In addition, the project has impacted positively on the cleanliness of the village environment. Other slums in the area are using this case as a model for improvement with regard to their own pressing water and sanitation challenges.
Contact: Edward N. Kairu
"Tsunami and sanitation in Sri Lanka--Turning tragedy into an opportunity for improving sanitation"
NetWWater and WfWfW
During the short-term and intermediate rehabilitation work after the tsunami which claimed 40,000 lives in Sri Lanka on the 26th of December 2004, the issue of sanitation was largely neglected. As a result, NetWWater focused on "Sanitation for All" in post-tsunami relief operations by providing sanitation-related technology to those affected by the tsunami and raising awareness on sanitation and hygiene by networking with local universities and partners to develop specific low-cost and sanitation technologies and by providing documentation and dissemination of this knowledge through capacity-building programs and livelihood-restoring actions. In the immediate aftermath of the tsunami, NetWWater and its university partners designed temporary sanitary disaster toilets in two relief camps and led programs to disseminate these technologies and know-how. These units served about 300 families and a primary school with more than 500 students. A National workshop was held at University of Moratuwa with participation of professionals, technical students and social workers representing almost all tsunami affected areas, with a CD in preparation, and the technological aspects of developing these solutions will be published in the National Journal of Engineering (Institute of Engineers Sri Lanka). In additon, as a step to restore livelihod, which is essential to resolving sanitation issues, over 300 families received replacements for the fishing gear lost during the tsunami and the fisherwomen's trade was revived with fishdrying gear. A sanitation and IWRM workshop was also organised and attended by more than 100 fisher-women leaders.
Contact: Kusum Athukorala