PARLIAMENTARIANS: "Parliamentarian's Helpdesk"
The 250 parliamentarians attending the Forum agreed that water needs to be higher on their agenda and that they need to exchange lessons and resources to play their important role more efficiently.

They especially shared lessons on how their work of preparing and evaluating water-related policies, controlling national budgets and ratifying international conventions related to water could be improved. The most concrete output of the process is the creation of a "Parliamentarians' helpdesk" which is intended to facilitate the sharing of experiences and of legal resources between them.

The Parliamentarian's Process documents which were endorsed during the Forum can be found in the CMS.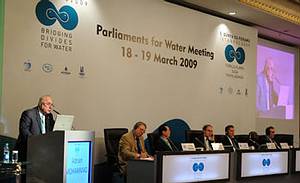 photo by Leila Mead