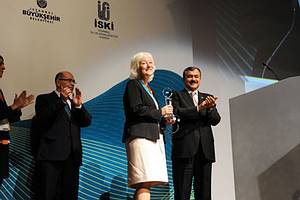 photo by Leila Mead
The Turkish Republic Prime Minister's Water Prize for journalists excellence was awarded during the 5th World Water Forum's opening ceremony to one international winner, Alison Bartle of Aqua-Media International, and four Turkish winners, Özgür Coban (Anatolian Agency), Özgür Yildirim (Channel 24), and Gurhan Savgi (Zaman Daily Newspaper), and for the programme Yeşil Ekran on NTV (accepted by Erman Yerdelen). These prize winners shared the prize money of 40,000 Euros between them. The award was presented by Prof. Veysel Eroğlu, Minister of Environment and Forestry, on behalf of the Prime Minister of Turkey.

For the first time by awarding the Prize, Turkey, as the host country of the 5th World Water Forum, aimed to honour individuals who have contributed to society's increased awareness of water-related issues. The importance of the media in fostering a paradigm shift in public opinion cannot be underestimated.
Relationship to the 5th World Water Forum
The World Water Forum is a process which aims to raise the importance, awareness and understanding of water issues and propose concrete solutions to address global challenges. The challenge faced by those involved in the organization of the 5th World Water Forum was to make it a turning point for water management in the world. The 5th World Water Forum brought the world to Istanbul to improve our understanding of divergent points of view and allow us to share solutions.
The general theme of the prize, which is at the same time the main theme of the 5th World Water Forum, is "Bridging Divides for Water". This theme implies bridging divides between east and west; north and south, the rich and the poor; developed and developing countries; and supply and demand. Furthermore, it describes the reconciliation of these differences for a better management of water resources. This theme also emphasizes the need for greater interaction, communication and functional harmonization of the various entities involved in or affected by water management, and sends out a message to the water community that water is not an end in itself, but rather a means for our development and well-being.
Applicants were asked to associate their public works to the overarching theme of the Forum, "Bridging Divides for Water".
Criteria To Evaluate Applications
Certain criteria were taken into account in the evaluation of the candidates' applications. The candidates should pay attention to the criteria mentioned below:

a) The originality and the quality of the article in terms of their content.
b) The impact of the article on public opinion on water-related issues.
c) The article's association with the 5th World Water Forum's main theme "Bridging Divides for Water".
Contact Information
Secretariat of the Turkish Republic Prime Minister's Water Prize
Tel: +90216 325 49 92/ ext 412
E-mail: TRPM Water Prize Secretariat