To provide some insight and debate on some of mankind's key water-related challenges, five High-Level Panels were organized at the Forum, bringing together experts and personalities from different disciplines to discuss and come forward with sets of practical recommendations. Panels focused on water and disasters; local financing; water, food and energy; sanitation; and water and climate change. Forum participants were invited to take part in these panels.
High-Level Panel on Water and Disasters
The High Level Panel started off from the framing of the Hashimoto Action Plan and the Hyogo Framework to assess the ways in which water management can be improved to increase institutional resilience in water-disasters. A wide range of solutions were discussed to manage ways in which response and recovery could coordinate greater cooperation among several groups. HE Dr.Seung-soo, Prime Minister of the Republic of Korea delivered a keynote speech in his capacity as a Founding Chair of the High-Level Expert Panel on Water and Disaster/UNSGAB.
High-Level Panel on Local Financing
How do we confront the global economic crises to not endanger the progress made towards the MDG goals? What can be achieved on the political level to enable long term development of sustainability in infrastructure for agricultural growth and local accountability? Issues of local financing, rural development and supply of sanitation services were the topics at the High Level Panel on Finance meets to discuss how tailored financing approaches for the local level could be implemented to respond to the changing financial and environmental regimes which places sustainability of water services on the agenda.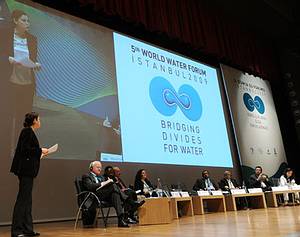 photo by Leila Mead
High-Level Panel on the Water, Food and Energy
A thorough-scoping of the intricate interdependencies between water-food-energy still needs to be explored. The High Level Panel on Water, Food and Energy addressed the challenges faced by this nexus through four key issues: maximizing sector wide approaches for increasing efficiency and water conversation, balancing food with biofuel production, understanding efficiency of water as energy, and of establishing guidelines for water footprinting. The panel shed light on these various issues from different perspectives and proposed a series of actions to develop an integrated picture of the water-food and energy nexus for the coming years through enhanced interactions among the three sectors.
High-Level Panel on Sanitation
Following the International Year of Sanitation and inching closer towards the 2015 MDG target, many sectoral divides in management, infrastructure and finance needs constant analysis in order to expand access to sanitation. There is currently a need to bridge the divide between the variety of approaches and ideas that exist on sanitation to provide clear policy and investment guidance implementable by decision makers. The High Level Panel provided an opportunity for the expert communities working in Sanitation and other involved stakeholders to gather and establish a coherent framework for sanitation solutions, resulting in a consistent set of action-approached messages.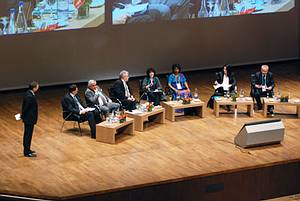 High Level Panel on Water and Climate Change
Prioritizing the role of water in an era of climate change will be critical if water is to develop an independent sector worthy of continuing to receive its own financing agenda separate from the adaptation and mitigation funds that currently exist. The High Level Panel on water and climate change framed the importance of securing a climate change agenda that prioritizing the value of water in its capacity to reduce and mitigate sudden changes in weather. The Panel worked on a set of Roadmaps and arrangements leading up to COP 15 to be worked alongside delegates from Denmark and other panellists.